The true magic of Christmas begins the day you put up your tree – sparkly baubles, twinkling fairy lights, and your choice of dazzling tree topper, decorating your Christmas tree is an iconic moment in the festive period.
Make your winter celebrations extra special this year and purchase your real tree from one of these local Leeds and West Yorkshire Christmas tree sellers.
How long does a real Christmas last?
Unlike artificial trees, real Christmas trees have a limited shelf life. This means resisting the urge to start your decorating early, especially if you want it to stand tall and proud on the big day itself.
To make sure your tree looks it's very best for Christmas Day, the best time to put up your real Christmas is a few weeks before the 25th of December.
Real Christmas trees can last around four to five weeks if properly cared for, however, they require regular, large amounts of water and you may see the lower needles start to drop if cut early.
It's important to water your real tree daily. The general rule is one litre for every inch of trunk diameter – for example, three litres daily for a three-inch trunk – for at least the first couple of weeks.
Heat can also dry out a healthy real Christmas tree, so make sure to place yours away from open fires and radiators.
Are real Christmas trees good for the environment?
Despite concerns around deforestation, many real Christmas trees have been grown specifically and responsibly for the festive period, meaning the grower has planted new trees for each one they have cut down.
When placed in the home, real Christmas trees can also help to purify the air around you, absorbing the carbon dioxide and emitting oxygen, alongside an appealing pine scent.
If you purchase a tree from a local Leeds or West Yorkshire Christmas tree seller, you'll further reduce your carbon footprint. Plastic or fake trees are often manufactured overseas, having already taken a boat/plane and lorry before your car journey home. Find a real Christmas tree seller near you for a more effective eco-friendly Christmas this year.
Once Christmas is over, make sure to recycle your festive waste and dispose of your real tree in a sustainable manner. Keep reading to find out how best to do this.
Where to buy a Christmas tree in Leeds
Wondering where to find a real Christmas near you? You're in luck – there are loads of places in the Leeds and West Yorkshire area selling real trees to help bring your festivities to life.
Christmas tree farms in Leeds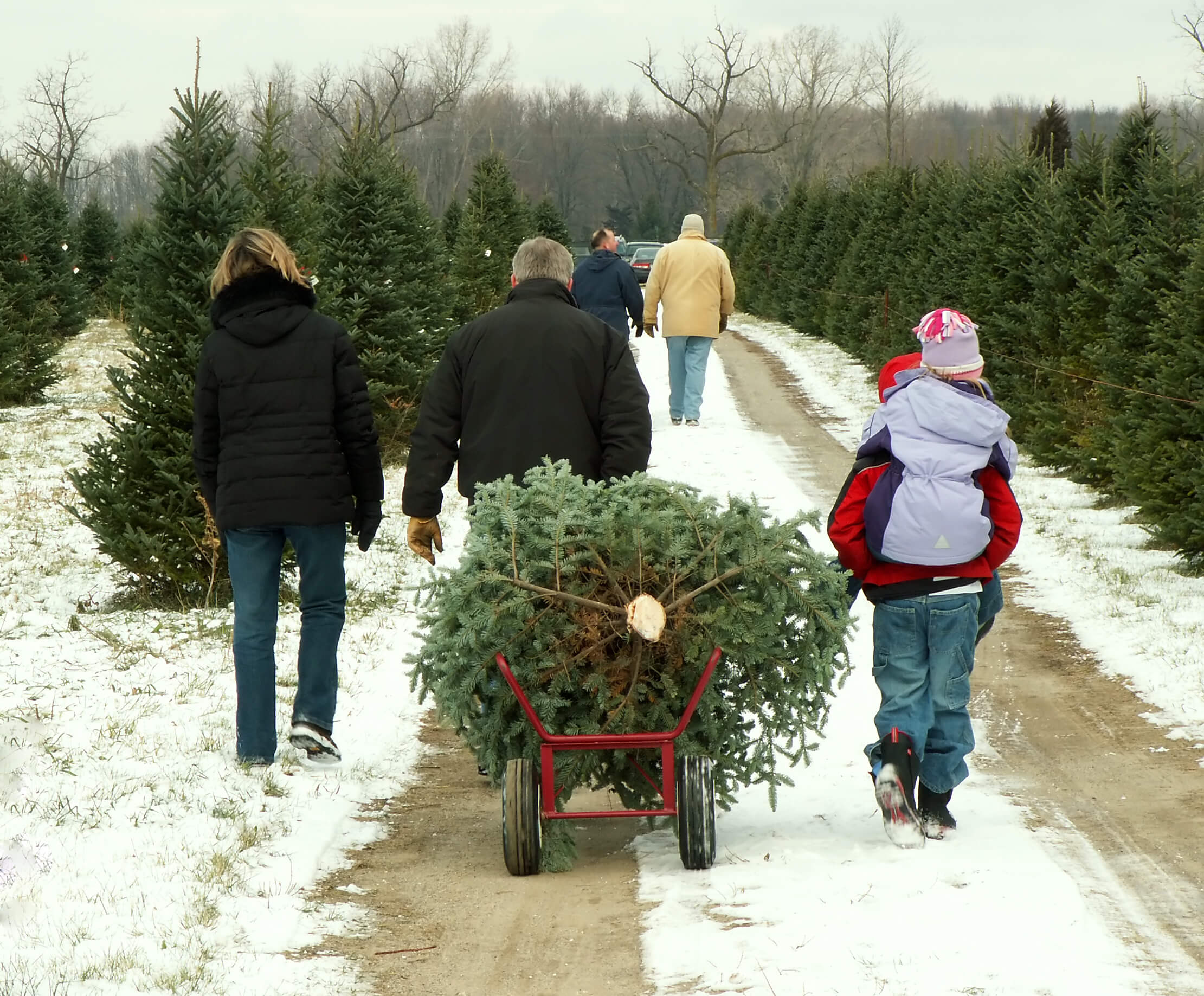 Going with your friends, family, and loved ones to choose your real Christmas tree is a heart-warming festive tradition for many. Even the biggest Scrooges can't help but get into the merry spirit when surrounded by the smell of pine and the sight of row upon row of magnificent trees.
Shop local this year and check out these Christmas tree farms around Leeds and West Yorkshire.
Stockeld Park
Stockeld Park is Yorkshire's largest grower of real Christmas trees, boasting more than half a million trees across the plantations on the estate and covering around 250 acres.
The park promises high-quality trees with no needle dropping – each tree is cultivated by hand across the course of the year, using a range of refined growing techniques that have been developed over many years.
Once you've chosen your favourite fir, head to the Christmas tree shop to pick out some beautiful luxury decorations to complete your festive centrepiece.
Brookleigh Farm
With over 22 years of Christmas tree experience, you're guaranteed to receive a good quality tree at Brookleigh Farm.
The Farm's most popular varieties of trees are the Nordmann and Fraser Firs, both non-drop trees. However, the farm also offers the Traditional Norway Spruce and occasionally the Blue Spruce or Blue Noble, exclusively on the farm.
Their friendly team of expert pickers is on hand to ensure you leave with the perfect tree to complete your Christmas. No space in the car? You can arrange to get your Christmas tree delivered straight to your door.
Methley Estate
Methley Estate has over 18,000 trees being grown at any one time, meaning you'll be spoilt for choice when picking out your real Christmas tree in Leeds. The first tree was planted in 1996, and since then, the Methley Estate has carefully cultivated good quality Christmas trees in the West Yorkshire area.
Choose from pre-cut trees in the barn or cut yours/ fresh from the field. There's also a lovely Christmas shop where you'll find other festive decorations.
Swillington Organic Farm
Unlike larger stores, Swillington Organic Farm prices its real Christmas trees depending on the quality, not the height.
Located just outside of Leeds, families are invited to visit the farm during December and pick the perfect tree for their celebrations. Sizes range from 3ft all the way to 15ft, and the farm also offers delivery for just £5.
Christmas tree delivery in Leeds
Want a real Christmas tree but unable to make the trip to a farm? Don't worry – these Christmas tree sellers across Leeds and West Yorkshire will happily pick, wrap, and deliver your festive tree.
Meanwood Real Christmas Tree Pop-Up Shop
The Meanwood Real Christmas Tree Pop-Up Shop resurfaces every winter, stocking a range of sizes and styles from locally sourced places that also invest in replanting. The shop offers free delivery across the local Meanwood addresses and some LS17 postcodes too.
Christmas Tree Leeds
Bingley-based duo, Christmas Tree Leeds, makes it easy to have a fabulous fir this Christmas, by delivering your real Christmas tree straight to your door. Christmas Trees Leeds stock premium Nordmann Fir trees as well as tree stands, with free delivery in the LS and BD postal codes.
Dodds Christmas Trees
Hugely popular (having already sold out for 2021!), Dodds Christmas Trees offer trees for every budget, ranging from £49 to £95 depending on height. The store also sells tree stands and luxury fresh wreaths for that extra special finishing touch. With free delivery to Leeds postcodes, be sure to put Dodds on your radar for next year.
Jackson Nurseries
Jackson Nurseries has been growing Christmas trees in its fields on the edge of the Peak District for over 60 years, bringing festive cheer to local families each December. Order online from its wide selection of fir and spruce trees. You can even let the shop know of any special requirements you may have, before picking a delivery day that suits you.
What to do with your tree after Christmas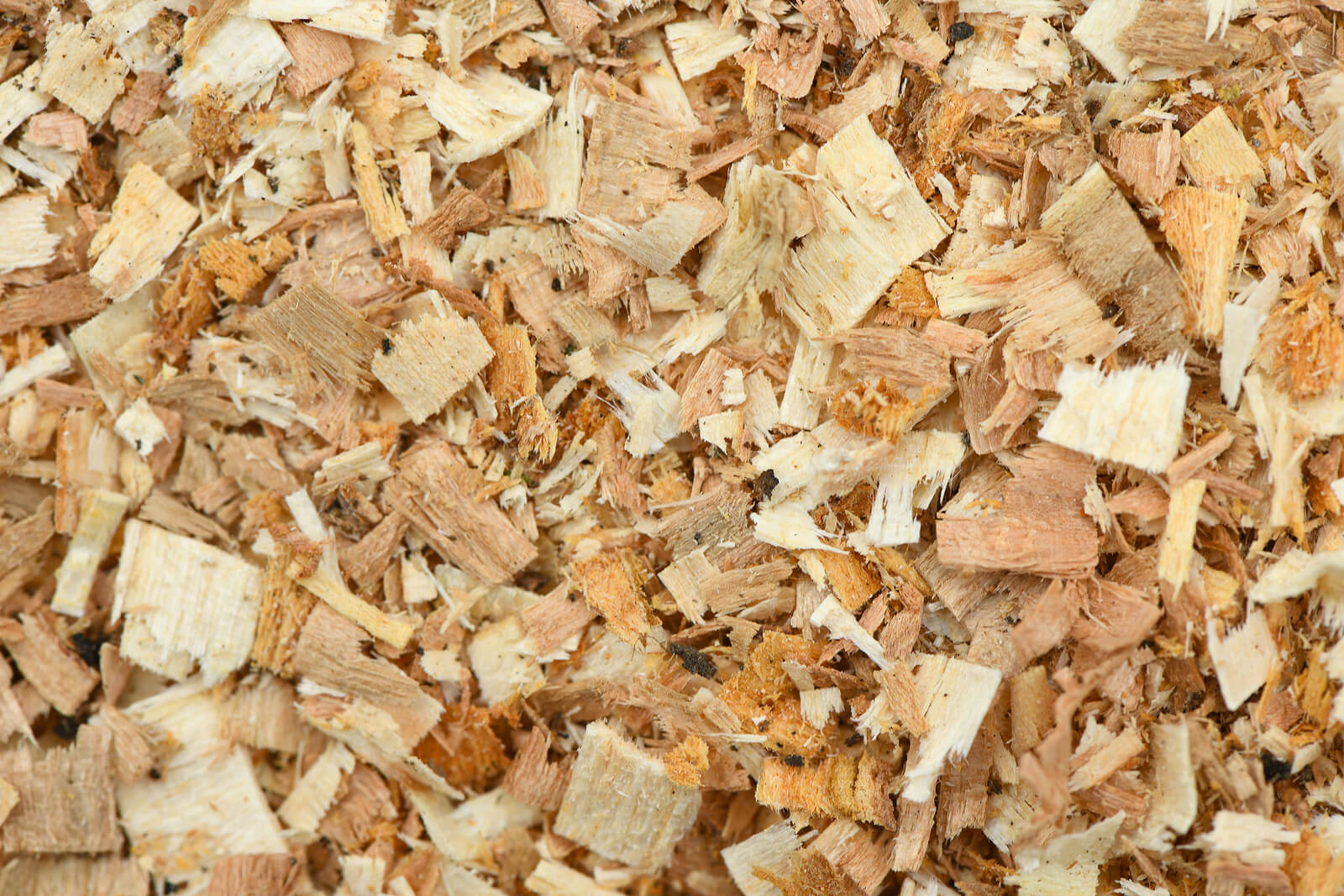 A real Christmas tree may be better for the environment than an artificial one, but only if you dispose of it correctly.
Once the festivities are over, there are a few options you have for what to do with your tree after Christmas.
Replanting – If you have the space, replanting your Christmas tree is a unique way to spruce up your garden. When correctly taken care of, the tree can even be used next year too.
Recycling – Did you know that real Christmas trees are recyclable? They can be turned into woodchips which are then used in woodland and park areas. Visit your local recycling centre in Leeds and place your tree in the garden waste skips.
Hire a skip – If you have a lot of Christmas waste, it may be worth hiring a skip for the festive period. Real Christmas trees can be placed in skips alongside all your festive wrapping and decorations. A great idea for those expecting a larger gathering.