If someone fly-tips on your land, it can be frustrating, and unfortunately, the responsibility falls to the owner of the land. Fly-tipping is illegal, and people can be fined and prosecuted for committing the offence. There are certain things you must do if someone has fly-tipped on your land, so let's take a look below.
What is fly-tipping?
Fly-tipping is when waste has been dumped on your land. The waste can vary from furniture, construction waste, hazardous substances, electricals, and more. In some rare cases, people have even fly-tipped animals such as horses onto private land.
What are the consequences of fly-tipping?
Fly-tipping is a serious criminal offence and can land people a fine of up to £50,000. In 2018/19, local authorities in England dealt with over one million (1,072,000) fly-tipping incidents, which is an increase of 8% from 2017/2018.
As previously mentioned, if someone has fly-tipped on land, the responsibility falls on the landowner. The National Fly-Tipping Prevention Group recommend getting in touch with the Environment Agency so they can investigate major incidents.
What to do if someone fly-tips on your land
If someone has fly-tipped on your land, it is crucial to follow the correct procedures to ensure that they get caught and to keep yourself and the environment safe.
Here are some steps to follow if you are a victim of fly-tipping.
Be cautious
When approaching any waste on your land, you need to be extremely careful. There could be hazardous waste that may injure you.
If you catch someone in the act of fly-tipping, do not approach them. They will know what they are doing is illegal and not want to be caught under any circumstances. You cannot predict a stranger's behaviour so to keep yourself safe, call 999 and do not put yourself at risk.
Keep a safe distance from the waste and secure it so that no more can be added.
Record the incident
It is essential to record the date, time and place of where the fly-tipping has happened. As well as this, it is important to take photographs of the waste.
Make sure you keep full details of any clearance and disposal costs, as you may be reimbursed after an investigation is closed.
Make sure it's official
It is essential to ensure that you use a registered waste carrier to take the waste and dispose of it safely and effectively. A certified waste carrier will be able to provide you with documentation when they take the waste, and should also prove that they are also licensed to deal with hazardous waste.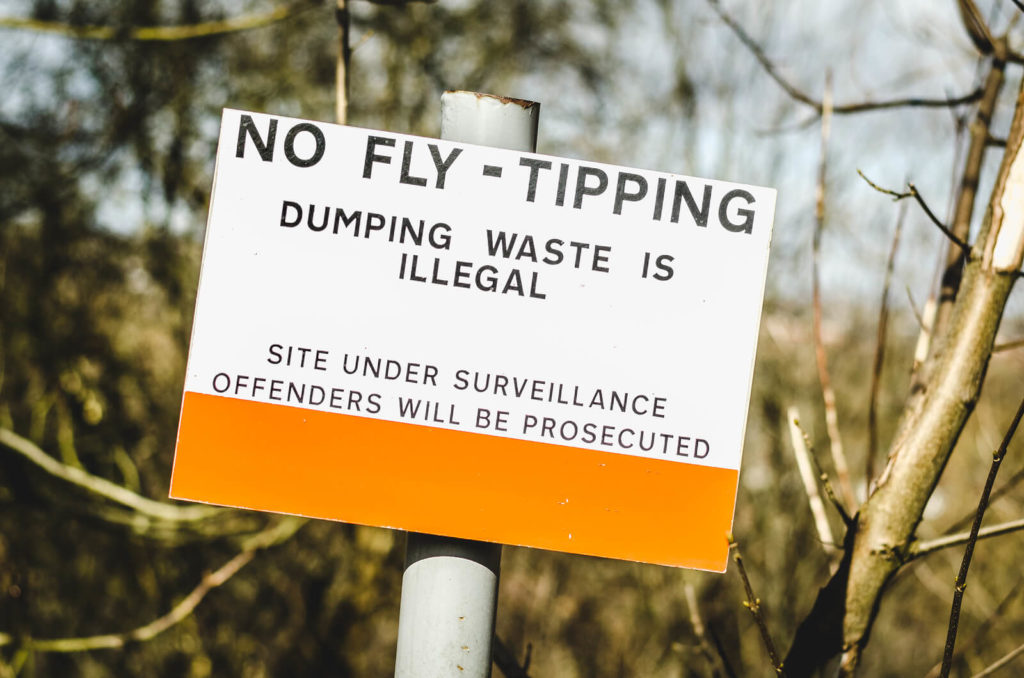 How to prevent it in the future
If you have been a victim of fly-tipping, there are a few things you can put in place to deter any more fly-tippers.
Restrict access
Restricting access to your land is very important, as people who want to fly-tip physically won't be able to access your land. Whether it is with a gate or natural barriers such as tree trunks, etc., this is an important prevention method.
Use secure locks
If you have gates restricting access to your land, ensure that you have locks on them and whenever you are leaving the land, lock it securely.
Lighting
Install or improve any existing lighting over your land. This is likely to deter fly-tippers as they will not want to be caught dumping waste in the light.
CCTV and signs
Having CCTV or even dummy cameras can help deter fly-tippers as they do not want to be caught committing a crime on camera.
Having deterrent signage will make it clear that the landowner is aware of fly-tippers and has methods in place to prevent this from happening.