You don't usually have to go far to see a skip by the side of the road or in a driveway, filled with rubble and old plasterboard from somebody gutting their house.
People rip out their home's fixtures and fittings all the time, whether because it needs rewiring, new plumbing, a change to the internal layout, or just to give it a fresh new look.
Here are some of our top tips for gutting a house – and the real reason why you see so many skips when people refurbish their property from top to bottom.
1. Be logical
There are a few ways to gut a house. You can rip out everything and start from scratch as if it were a new-build, or you can go room by room.
If you're taking its innards out entirely, you're going to need a bigger skip, or a steady supply of replacements as each skip gets full.
Working one room at a time can be more methodical, although it may also take longer, and you'll need to keep the newly decorated rooms sealed off against dust and detritus from elsewhere.
2. Get out, stay out
Don't let ripped-out materials get tracked back into the property, such as brick dust or chunks of old plasterboard.
A good-sized skip for your project gives you a place to put waste materials where they will stay put, and if things are getting too much to manage, you can call in your skip hire company to remove the full skip and bring another empty one.
People are often surprised by how many skips it takes to empty a completely gutted house – and that's the reason why you'll see more by the roadside than you might expect, as it might just be the latest in a long line of skips delivered to that address.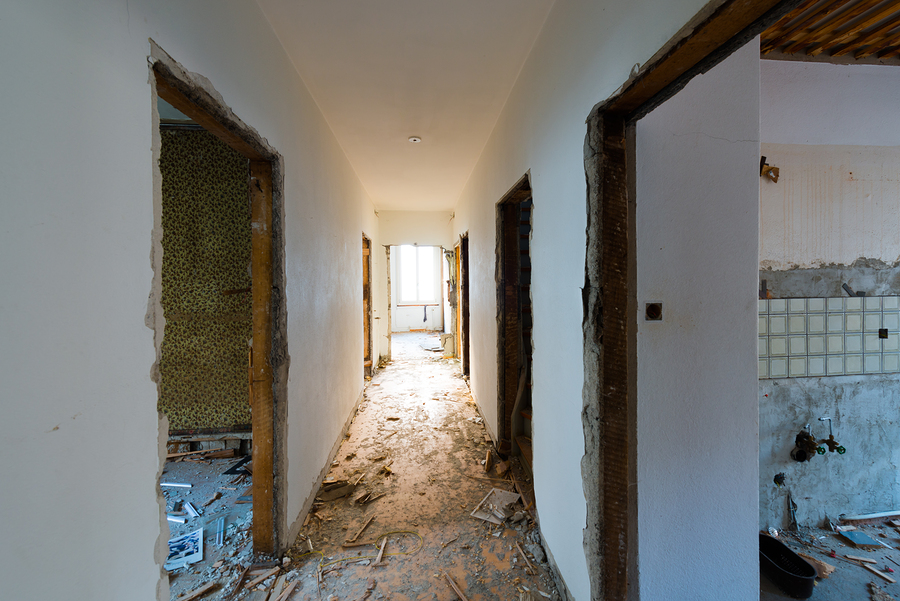 3. Be careful
Gutting a house is a major project, and it's important to take care with sharp materials like broken glass or twisted metal, and especially with restricted materials like asbestos.
If you do find dangerous materials like asbestos in your property, you'll have to stop work and get a specialist in to remove them.
For everything else though, you can pile it into a domestic skip and have it collected in bulk, and your skip hire provider will then sort through any recyclable materials to minimise the amount sent to landfill.
Work with your skip hire provider
If you're not sure how many skips you will need, ask your skip hire company for a recommendation. They will have the experience to offer a best guess, and you can always get more skips if you have more waste than expected later.
The worst situation to find yourself in is to have an overflowing skip with no scheduled collection – and if you heap materials above the safe fill level, it might be too dangerous to remove your skip anyway.
Keep an open dialogue with your skip hire provider and you can call in the cavalry to remove your skip as it reaches the fill level, while bringing you a replacement empty one so work on your property doesn't grind to a halt.