As a society, we consume a lot in any given day. The UK alone spend an average of £97 per week on groceries and a grand £276 a year on non-alcoholic drinks. The problem with this is much of these items go to waste and are often packed or wrapped in plastic. The more we consume, the more our plastic waste increases.
That's why recycling is now more important than ever before. It's a great way to turn the things we would usually throw away into new items and avoid waste and improve environmental protection and pollution prevention all over the world.
Recycle Week is back and better than ever this year. If you're interested in reducing your consumption waste and helping the environment, this annual event is a great opportunity to learn more about the benefits of recycling and how to keep track of what goes where.
What is Recycle Week?
The event takes place every year as an attempt to help the nation recognise the importance of recycling. Recycle Week will be held this year from 20th-26th September. This year's event will be the largest yet, marking its 18th anniversary.
Retailers, brands, waste management, governments, and the media work together throughout the week to encourage people to recycle more of the right things. This can be accomplished through increased awareness and active changes in how businesses recycle.
What is the theme of Recycle Week 2021?
Every year, the Recycle Week event has a theme that focuses on a specific area. The theme for 2021 is "Step It Up". It focuses on the climate crisis and how each individual can help by stepping up and changing their habits.
Although this is a powerful statement, you can help in even the smallest of ways. If you do anything this Recycle Week, make it a point to raise awareness about environmental issues and work to combat climate change.
How to get involved with Recycle Week 2021
Participating in Recycle Week is extremely simple, because the main idea is to pay more attention to what you're recycling.
If you already have a recycling system in place at home, then you're already off to a good start. Take the next step by making it a point to share your ideas and techniques with others, whether through social media or in a casual conversation at work. To help promote Recycle Week, you can find a plethora of resources and toolkits are available for download here.
Why is recycling important?
Recycling is critical to the preservation of natural resources. We help the environment and preserve these precious resources by recycling items rather than using new raw materials.
Along with the importance of recycling, there are numerous benefits to it, not only for the environment but also for us. Recycling conserves energy, reduces material costs, and encourages people all over the world to become more environmentally conscious.
Climate change is a major concern, and recycling plays a significant role in reducing carbon dioxide (CO2) emissions into the atmosphere. Landfills have a devastating impact on the environment, harming animals while also causing massive amounts of pollution.
By recycling appropriate waste so it can be reused again, we prevent landfill sites from filling up and help to save the environment.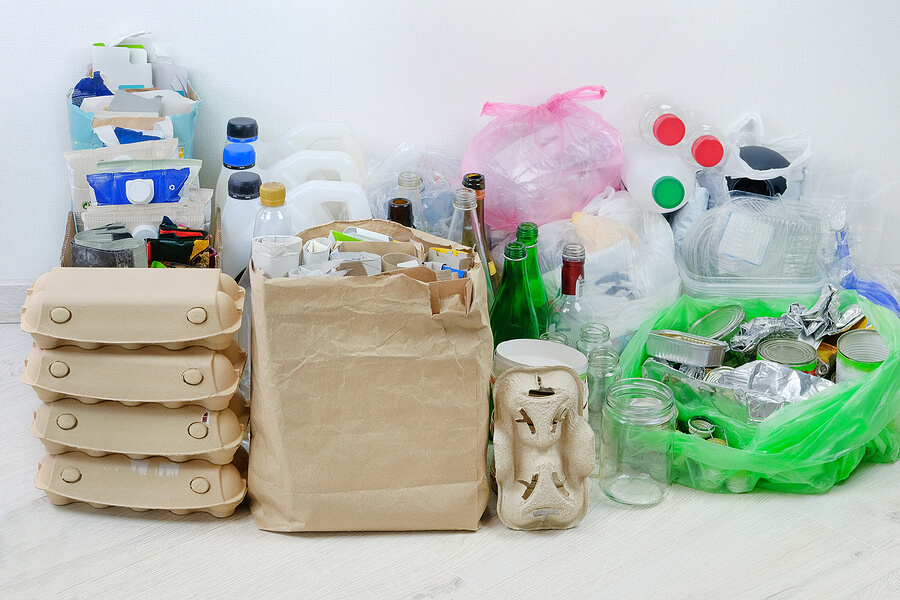 Understanding how to recycle
If you haven't done your homework on recycling, it can be difficult to know what you can and can't recycle.
Here are some pointers to help you understand how to recycle effectively.
Learn what can and can't go in your recycle bin
There are different colours of wheelie bins in Leeds for different types of waste. Blacks bins are for general waste, brown is for garden waste, and green is for recyclables. It's critical to put the correct types of waste in each bin so it can be disposed of properly.
It's always a good idea to have a separate bin for recyclables in your home. This way, when it comes to taking your waste to wheelie bins, it's a simple process and you know what you're doing.
When putting waste in your green bin or green bag, it's essential to know what can and cannot go in there. If your recyclables are contaminated with other waste, waste collectors may refuse to pick them up.
Here is a list of items that should be placed in your recyclable bin:
Paper, e.g. office paper, magazines, junk mail, paperback books
Cardboard, e.g. brown card, glossy printed card, egg boxes, kitchen and toilet roll tubes
Metal cans, drink cans, food cans
Empty aluminium deodorant, cleaning or hair aerosols
Foil, e.g. take away trays, scrunched up soft foil and food containers
All plastic types except for black and brown
Carrier bags, drink bottles, milk containers, yoghurt pots
Use certified waste disposal companies
Hiring a skip is an easy way to dispose of your waste after a major clean out. Not only is this a quick and convenient waste disposal method, but it also ensures that your waste is safely disposed of.
If you're doing a big clean-up and need your waste removed, you can hire a certified waste disposal company. This means you can rest assured that your waste will be disposed of properly and with the environment in mind.
Final thoughts
Recycling is certainly a cause for celebration because it protects our natural resources. As recycling becomes more common, packaging and waste collection will begin to change in a way that is more sustainable.
Recycle Week is an excellent opportunity to reflect on how far the world has come in terms of waste disposal and how much more we can improve in the future. Even if you only make one small change or place one new item in the recycling bin this September, you will be making a difference.