Here at Forge Waste & Recycling, we offer cost-effective, local skip hire to Leeds and the surrounding areas.
With this guide, you'll know exactly what skip to choose, how to prepare for a skip, and how to use your skip correctly and efficiently.
You'll then be armed with all the information you need to get started on your house clearance, redecoration, or big garden clearance safe in the knowledge that you can hire a skip from Forge and know exactly what to expect. So, let's get started.
What is a skip?
A skip is a large, open-topped waste container that is designed specifically for loading onto a special lorry.
They have a distinctive trapezoid shape with two lower edges, making them easier to fill. Skip bins are usually durable and tough compared to regular household waste containers, made to withstand heavy waste and rough debris.
Skips are commonly used by tradespeople and on building sites, however, they can also be handy additions to households when undertaking a large renovation or clearance.
Hiring a skip
Hiring a skip from Forge is quick and easy – you just need to determine what size skip you'll need, where it can be placed, and how long you'll need the container for.
When to hire a skip
House renovation or garden clearances are popular reasons for skip hire. Hiring a skip is a convenient alternative if you have a large amount of waste to dispose of that can't be easily taken to the rubbish dump or recycling centre.
Which Size Skip Do I Need?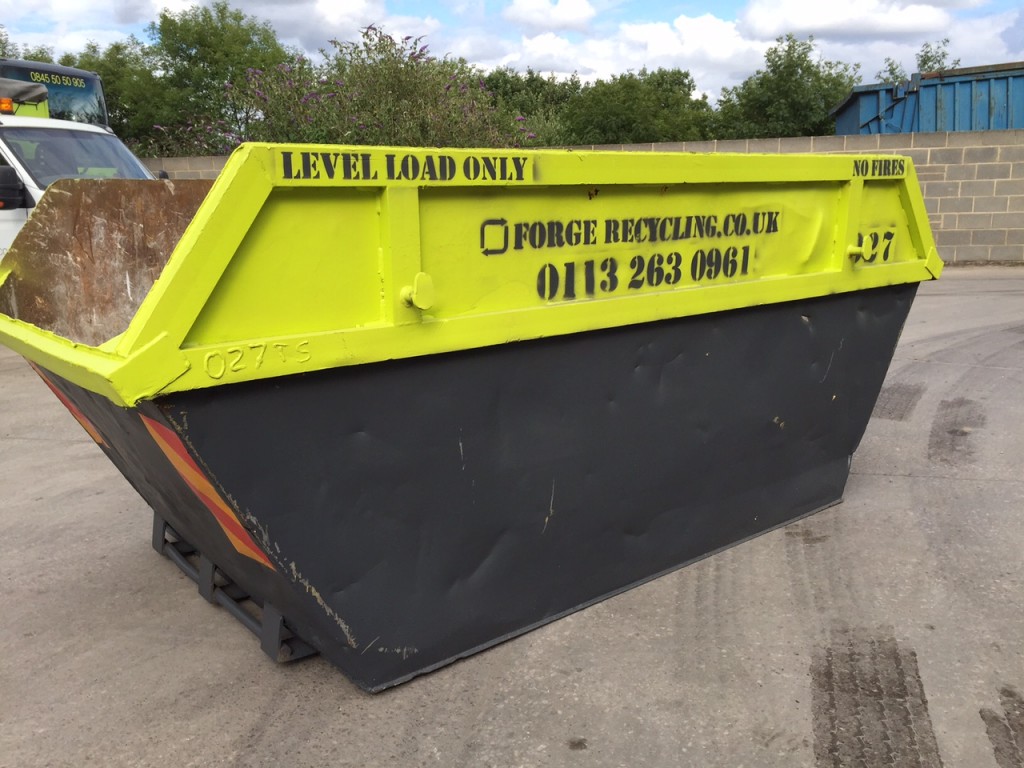 The skip size you require depends on the scale of your job. However, if you're unsure, we recommend choosing a larger container. Overloading a skip is illegal and, if your skip is too heavy, we'll be unable to remove it for you. With a bigger skip, you'll also have more opportunities to utilise it for other household jobs that may come up.
If you have any questions on size requirements, please get in touch and we will be happy to help you decide. Below is a general size guide to hiring a skip from Forge:
MIDI SKIP (4 yards, 40-45 bin bags)
Our midi skip is ideal for general household and garden waste or for kitchen/bathroom renovations.
BUILDERS SKIP/MAXI (8 yards, 80-90 bin bags)
Our builders skip is ideal for general household waste, garden waste, large house clearances, rubble from home improvements or construction, and any other general waste.
LARGE SKIP (14–16 yards, 100-200 bin bags)
Our large skip is ideal for bulky but lighter waste, such as wood and metal from construction. It is not suitable for rubble, bricks or soil. An optional skip door is also available.
How long can you keep a skip for?
Around seven days is the typical length of time people keep a skip on their driveway after the works are completed. However, some customers then apply to have their container for up to 14 days if needed.
We realise that all our customers have different needs and a schedule that is unique to them. Forge can be flexible with skip hire to suit your needs and fit your requirements.
Where can I put a skip?
Most skips are placed on a private driveway – this ensures minimal disruption to neighbours or traffic.
For soft tarmac or block-paved driveways, you may wish to consider placing a layer of wooden planks on the area you want the skip to be placed. This will help protect your drive from damage, as skips are heavy items – especially when filled with waste.
You can also place your skip on a shared driveway, however, we recommend asking your neighbours about your intentions to hire a skip well in advance. Make them aware of how long you'll be using the skip and any potential access issues.
If you aren't placing your skip on a private or shared driveway, you may need to apply for something called a skip licence or permit. These are issued by the local council and can take up to 7 days to arrive (but usually take around 3 or 4). A skip permit is required for all public roads or pavements. General information on this can be found here, but it's also recommended you contact your local council for information specific to your area.
Cost of skip hire
Forge offers affordable skip hire for households in the Leeds area, with a range of sizes to choose from to suit all budgets.
Hiring a skip is often cheaper and easier than taking your debris to the dump yourself, especially if your waste or recycling centre doesn't accept certain items and is difficult to access. Skip hire also allows you the freedom to carry out the waste removal on your own time.
If you have any budget constraints, please do not hesitate to get in touch with Forge Skip Hire and we'll be happy to discuss your skip hire options.
Can I put anything in a skip?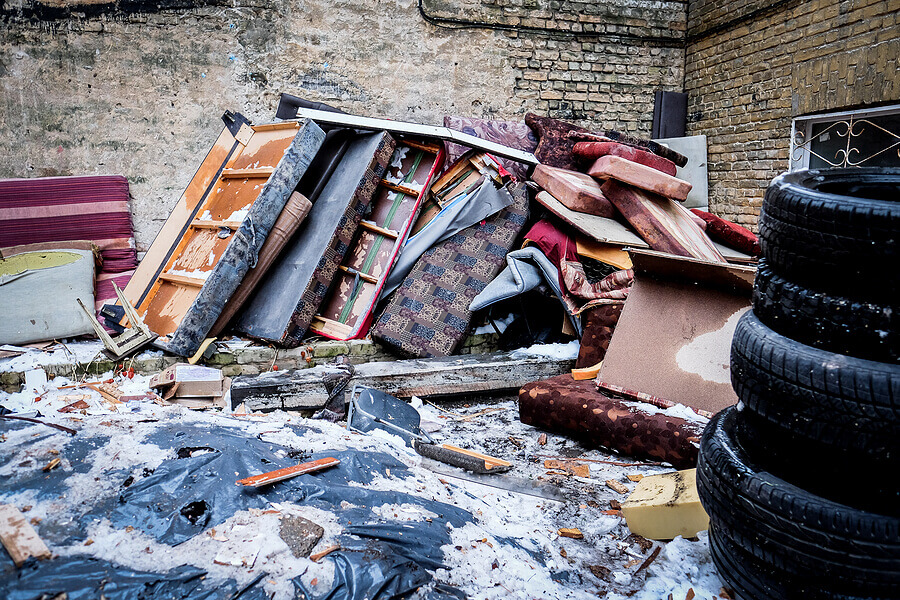 The short answer is no –  while skips allow many more items than they prohibit, you can't put anything in a skip. Read on for our skip waste dos and don'ts.
What can you put in a skip?
Had a garden clear-out? Good news – you can dispose of compost, sand, broken bricks, uncontaminated soil, and sand in your skip. Garden trimmings, metal, organic waste, waste from electrical fixtures and fittings, building waste, and plastics are also accepted items.
Skips are ideal for house renovations and clearances, as you're able to dispose of broken furniture, furnishings, cardboard, plastic bags, wood, and also solidified paints.
What can't you put in a skip?
There are a few items that, for legal or practical reasons, are disallowed in skips. These include:
Gas cylinders
Fuels
Batteries
Full paint tins
Asbestos
Solvents
Medical waste
Tyres
Plasterboard
Fluorescent tubes
Please contact us if you have any questions regarding what you can and can't put in a skip. Fridges and freezers require Forge's confirmation before they are put in our skips, as they are classed as hazardous. There is also a small charge to dispose of these.
Using a skip
Got your skip and ready to fill her up? Make sure you're using the skip correctly. Improper use could result in us being unable to remove your skip, or you could even receive a hefty fee.
Skip fill level
Always check the maximum fill level of your skip before you begin to load in your items. This will vary depending on the size of your skip. In the UK, it's illegal to overfill a skip, so checking your skip fill level beforehand could also prevent you from receiving an unwelcome fine.
Skip weight limit
Your skip weight limit is another one to keep in mind during loading, too. A too heavy skip will mean that we're unable to take it away for you, resulting in a range of logistical problems and prolonged disruption. Loading your skip sensibly and safely is therefore paramount.
Skip hire in Leeds
Forge Skip Hire is the go-to company for all your waste removal needs in the Leeds area. Our services cover Leeds and surrounding areas, stretching across the county. We pride ourselves as one of the most trusted and popular skip hire organisations in Leeds, with a range of reputable reviews for our efficient waste removal services.
Any Questions?
If you have any questions about our Leeds skip hire service, give us a call on 0113 3207960. Or, if you know what type of skip you require, simply order online using our new online service. 
We also offer a 'man and a van' waste collection service which might suit you better if you have any doubts about access to the skip truck or you would prefer someone else to do the heavy lifting for you.