Got yourself a new mobile phone and wondering what to do with your old one?
Recycling your mobile phone properly is easier than you might think. Many people spend years with their old devices tucked away in the back of drawers, gathering dust and losing value. How about making some quick cash or even donating your mobile to a worthy cause, instead?
Not only could this help your wallet or your conscience, but safely recycling your mobile phone is also better for the planet too.
What are mobile phones made of?
Mobile phones are made of a variety of different materials, mostly metals. Alluminium alloys make up the majority, usually found in the casing of the mobile phone. In the wiring, you'll find precious metals like gold, copper, and silver. Mobile phone batteries contain lithium cobalt oxide and carbon graphite.
Rare earth elements help produce the bright display colours of your mobile phone, namely yttrium, terbium, and dysprosium. Recently, scientists declared these endangered elements, partly because of the rate at which mobile phones are being produced and thrown away. To help slow this, they warned consumers to stop changing their devices every few years.
Are mobile phones bad for the environment?
Not only do mobile phones use some of the Earth's most precious and scarce materials, but they also contribute to the world's growing amount of technology waste.
As devices are upgraded at a dramatic pace, consumers rush to update their mobile phones to the newest model. The old ones are often tossed into landfill, where the batteries release harmful chemicals into the surrounding environment.
How to recycle your old mobile phone
If you do need to purchase a new mobile phone, make sure you safely and effectively dispose of your old one.
Depending on the condition of your device, you could make a pretty penny or even help out a local charity. You may also be surprised to learn that your broken mobile can be stripped and used for parts, too.
Ask in store
The shop where you purchased your new mobile phone may actually have its own mobile phone recycle unit.
Apple Trade In allows customers to recycle their iPhones and use the value as credit towards a new device, no matter the model or condition.
Samsung Recycle offers something similar, accepting many mobile phone manufacturers and promising quick payment.
Meanwhile, Carphone Warehouse allows you trade in your mobile phone online, sending you a prepaid postage label so you can post the device back to them. If your device is faulty or not working, head to a store and drop it off there, where they will safely recycle your mobile phone.
Many mobile networks and their physical shops will take part in some sort of recycling scheme. It's definitely worth inquiring next time you pass a store — they may be able to take it off your hands there and then.
Pass it on
Maybe you've got a friend or relative that could benefit from receiving your old mobile phone? Ask around or even post in local community groups. What's out of date for you may be just perfect for someone else in need.
Donate to charity
Likewise, many local charities are always accepting working tech in good condition. Organisations focused on adult learning will be particularly grateful. Do a good deed and donate your mobile phone to charity.
Sell online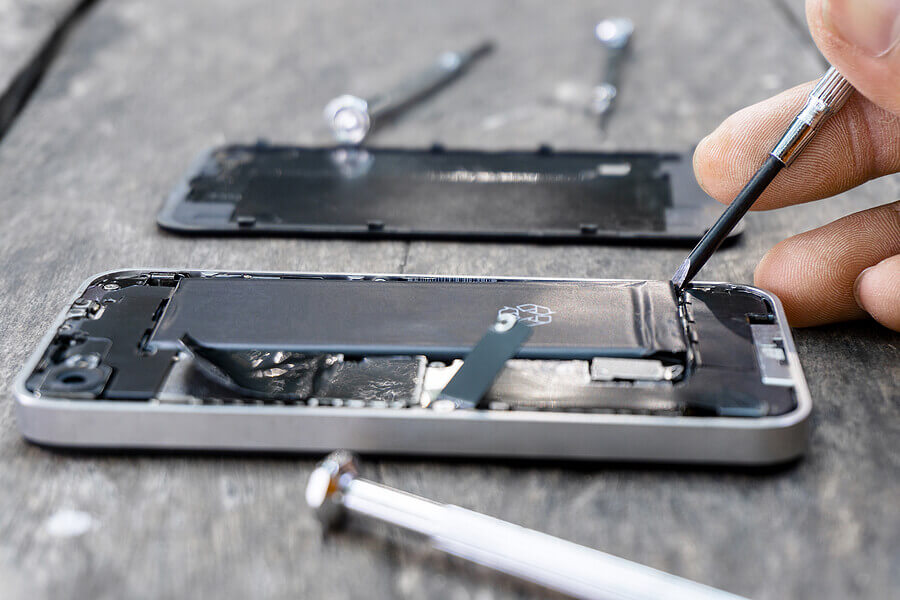 Online selling websites like eBay, Gumtree, and Facebook Marketplace are good places to sell your mobile phone, just be sure to list the exact condition of the device and faults (if any). It's worth listing your device even if it's broken too – some tech experts will be after projects or may even strip the phone for parts.
CeX, musicMagpie, and Ziffit are just a handful of the online companies that offer cash for your working or broken mobile phones. There are also mobile phone comparison selling sites you can use to find where will give you the best deal for your old device.
Dispose of properly
Perhaps your mobile phone is too old or broken to sell, donate or pass on? Don't worry – there are still ways that you can safely dispose of it to ensure less harm to the environment is done.
Most household waste and recycling centres will recycle your mobile phone in the 'small electricals' containers. It will then be taken to a reprocessing plant where it is shredded into small pieces, before being safely sorted into ferrous metals, non-metallic metals, and plastics, ready to be used again.
How to recycle the mobile phone battery
Some councils will accept mobile phone batteries as part of their household collections. If not, you will be able to recycle your mobile phone battery at most supermarkets, DIY centres, or even your local corner shop.
Learn more about the safe disposal of many household and everyday items on the Forge Skip Hire website, including what you can and cannot put in a skip.