Outdoor workspaces are becoming more popular in private gardens and commercial premises alike, not least in response to the Coronavirus pandemic and the overnight changes to working practices brought about during the COVID-19 lockdowns.
In this guide we'll look at the reasons why you should hire a garden waste skip, clear your outdoor clutter, and reimagine your garden or back yard as an outdoor office.
Why are more companies creating outdoor workspaces?
The government's "Hands, Face, Space" guidance for reducing the risk of catching COVID-19 was eventually extended to include "Fresh Air" and a recommendation to meet outdoors or with open windows wherever possible.
For businesses with outdoor areas, it makes sense to equip those areas with outdoor office furniture and allow staff to work outside when the weather permits.
Even without the impact of the pandemic, there are good reasons why outdoor workspaces make sense…
It creates a change of environment
Working outside office buildings allows employees to take a break from their indoor desk and can help tackle stress and anxiety arising from that 'hemmed in' feeling.
Outside working conditions can be a little unpredictable, but the change is often welcome, as a gentle breeze or light shower is no problem when you have adequate shelter.
Productivity and creativity levels could increase
Working outside could be the productivity boost you've been looking for. Many of us respond positively to fresh air, while natural light can help to maintain a healthy sleep cycle so you're well rested for each new day at work.
It provides options
Outdoor workspace can be surprisingly versatile. Movable garden furniture allows you to change your view, while parasols provide shelter at a moment's notice, so you could even find yourself working comfortably in the rain.
Sustainability is at the forefront
Creating a garden office is about more than just skipping your outdoor waste. It's a chance to create a haven of flora and fauna – and that's great news for the environment. Swap four walls for flowers and water features and make your workplace an oasis of calm in the great outdoors.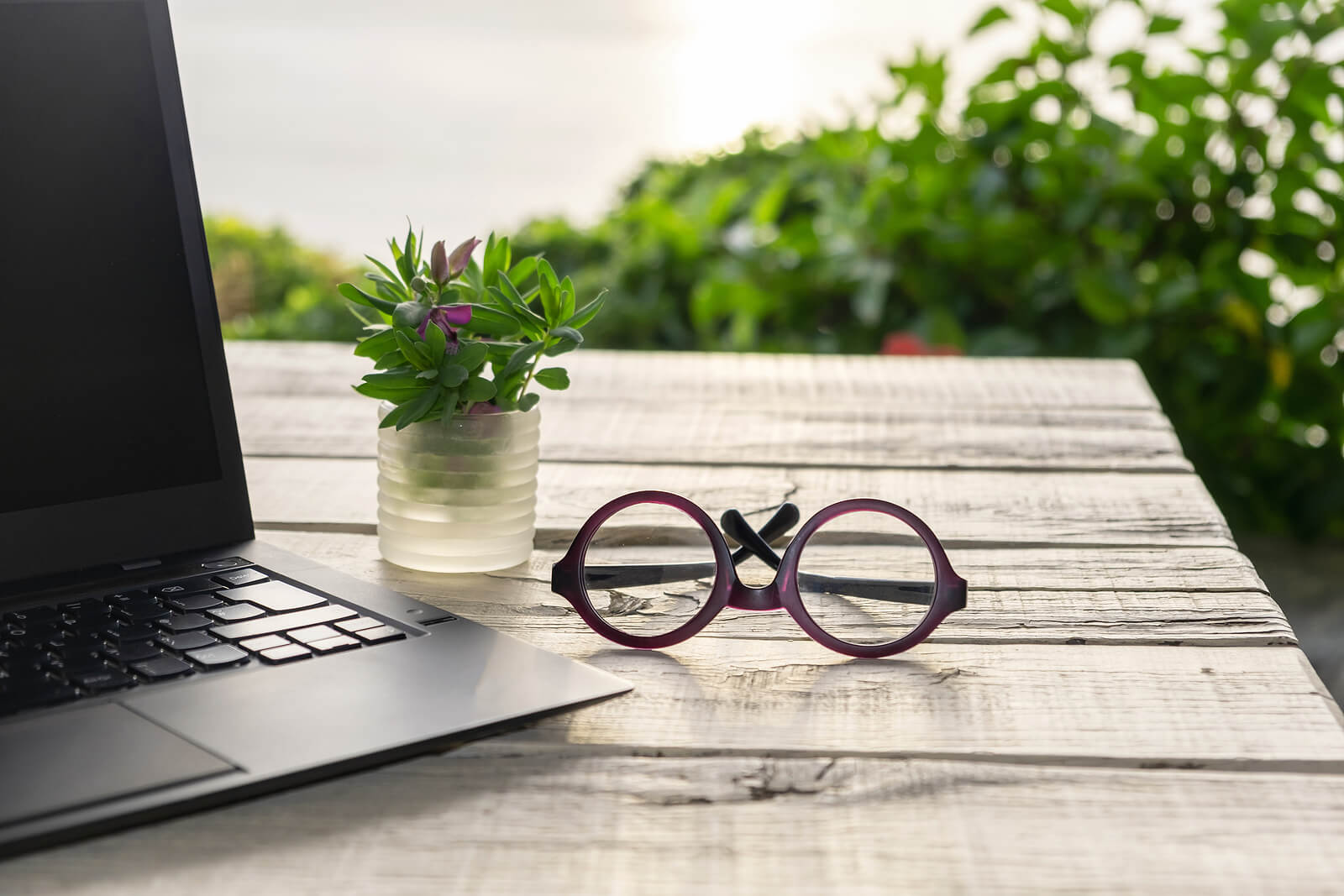 How can I prepare my outdoor space before work there?
It's likely you'll need to make a few changes to your outdoor space before working outside.
If you're going to be working in a private garden, follow our guide to prepare your garden for summer and you should clear away a lot of the clutter, ready for your outdoor office furniture to go in.
Clear your outdoor waste
A garden waste skip is the best solution for outdoor waste and an essential first step towards preparing your outdoor area for work.
They say a tidy office means a tidy mind, and the same is true when working outdoors. Cut the grass, trim any overhanging branches and declutter a designated area to set up your outdoor desk.
Choose suitable furniture
When working outside office furniture can take many forms. You might already have a picnic table where you can set up your laptop in a matter of moments.
If you're planning to work outside for long periods at a time, make sure you have ergonomic garden furniture so you don't run the risk of aches and pains, and so that you get only the positive health effects of creating an outdoor office space.
Add a variety of plants
Working outside is your chance to get back to nature, so surround yourself with plenty of plants, including a mix of seasonal blooms, shrubs and trees.
Opt for species that do not produce much pollen if you have hayfever and other outdoor allergies. You could also choose plants that you know attract birds and butterflies – even bees will usually not bother you unless you threaten them in some way.
Make sure you have a level of protection
Plan for all kinds of outside working conditions and don't assume you will always be able to get back into the house before the weather changes.
Some of the main elements to protect yourself against include:
Wind: Shrubs create a natural wind break and can help to interrupt the air flow in any especially windy parts of your garden.
Rain: If you work outdoors for long enough, eventually you WILL get rained on, so make sure you have some shelter.
Sun: Strong summer sun raises the risk of sunburn and ultimately skin cancer, so again have some cover available.
If you work with a computer screen, you might find direct sunlight makes it difficult to see the display, so again bear this in mind and angle your outdoor desk away from the sun as necessary.
Final Thoughts
The Coronavirus pandemic inspired many people to get back in touch with nature, either on their daily exercise or because the immediate switch to working from home allowed the garden to double as an office.
Over the summer months, it's the best time of year to work outside, so don't miss out on the opportunity to get some much-needed fresh air after all the months spent indoors.
As we move on from the worst days of COVID-19, flexible working is a trend that we can truly embrace, to make the most of the brighter days ahead.
If you'd like to hire a garden waste skip to deal with your outdoor waste while setting up an outside office, contact Forge Skip Hire today.