The scariest thing about Halloween is the amount of waste produced every year.
It is estimated that around 2,000 tonnes of plastic waste is generated from throwaway Halloween clothing alone. Although that is shocking enough, if you add packaging from decorations and sweet packaging, even more waste is created.
Due to the huge amount of plastic waste that Halloween causes, the environment becomes damaged due to harmful chemicals polluting land and water. When plastic waste is incorrectly disposed of, it can find its way to the ocean, negatively affecting a variety of marine life, including seals and seabirds, to name a few.
When plastic enters the ocean, marine life ingests the harmful chemicals of the plastic and suffers for a long time before an inevitable death.
By having a green Halloween, you help the environment and you will still able to have a spectacularly spooky celebration. Keep reading to discover ways to be environmentally-friendly this Halloween.
Create your own costume
In 2018, environmental charity, Hubbub, completed an investigation into seasonal outfits available from 19 supermarkets and retailers, including Aldi, Argos, ASOS, and Amazon.
The investigation found that 83% of materials comprised of oil-based plastics, which unfortunately, would likely end up in landfill.
Although the pollution figures are astounding, this doesn't mean you can't dress up.
By using old clothes, you can create impressive homemade Halloween costumes to stand out from the crowd. If you find you are missing an essential item to complete your costume, try looking in a charity or vintage shop!
Use what you have for decorations
Not only do Halloween decorations from shops use different types of plastic in products and packaging, but these items are usually thrown away after a short period of time.
It is extremely easy to use items you have in your house to create eerie eco-friendly Halloween decorations that are sure to frighten other members of your household or people passing by.
If you fancy taking a walk into the woods or the park, you can collect leaves, sticks and rocks to create unique decorations. One idea is that once the leaves you have collected dry out, you can draw and paint ghostly designs to add an extra level of terror!
If you have candles in your house, you've got your atmospheric lighting sorted. To be extra environmentally-friendly, the best candles you could use are vegetable or beeswax based.
Although fairy lights might not seem like the spookiest decoration, you can use them to aid your other items! By having mysterious lighting behind your creations, it adds an extra spine-chilling element to your Halloween.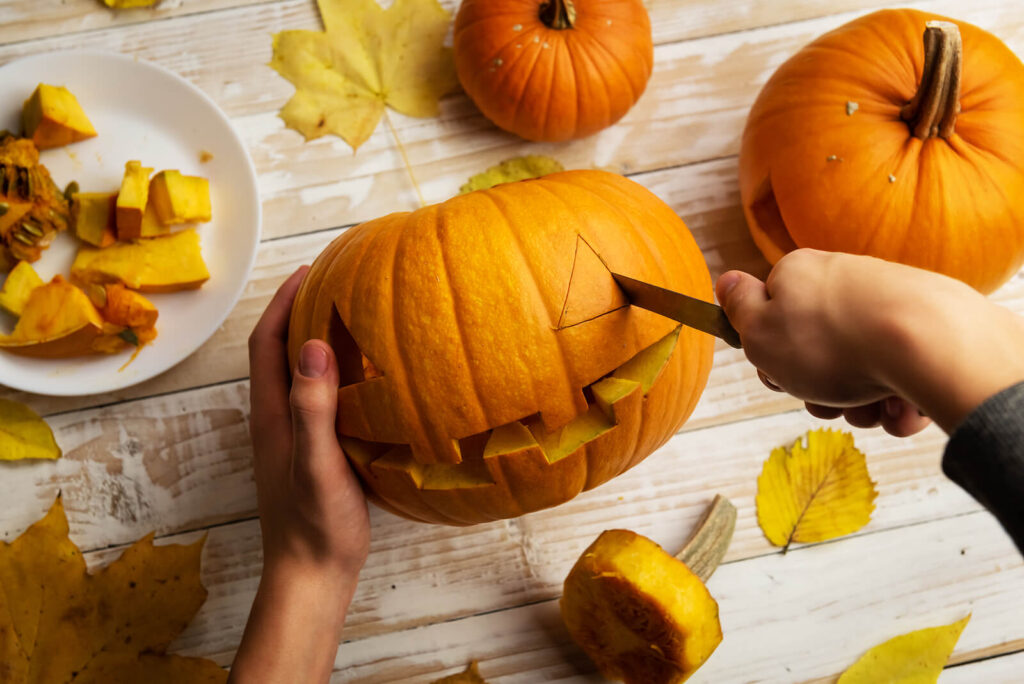 How can I be environmentally-friendly with my pumpkins?
Using pumpkins as decorations and Halloween fun is a great start to being environmentally-friendly.
Alongside being decorations, pumpkins allow you to make extra treats for those around you this Halloween!
When choosing your pumpkin, try to go to a local farmers market or local farm shop, as this supports independent businesses and reduces your carbon footprint.
Once you have scraped pumpkin to prepare it for being carved, put the seeds and insides into a tupperware on the side. This way, you can create a plethora of tasty recipes for people to try.
Is Halloween different this year due to COVID-19?
It is important to note that due to COVID-19 restrictions, trick or treating is going to be a little different this year.
The government has advised against trick or treating, but it has not been officially banned.
It is crucial to follow government advice, but if you believe you can safely trick or treat, make sure you follow the relevant rules for your area. For example, you must stand well back from doors, keep your hands clean and fully adhere to social distancing rules (wear a medical mask and keeping two metres apart).
If you do not want people to trick or treat at your door, it may be an idea to create a sign , so people know not to knock and wait in your garden.
Try 'reverse trick or treating'
A safe alternative method this year is to try reverse trick or treating. This means you can create pre-packed sweet treats and leave them on your neighbour's doorsteps.
To do this in an eco-friendly manner, make sure your pre-packed sweets are packaged in recyclable material and ensure they contain organic treats!
If you have baked items, you can involve them in your trick or treat packages too, but make sure to add a list of ingredients you used in case of allergies.