Easter is one of the most fun-filled times of year — in fact many people say it's their favourite holiday, as it's a chance to meet up with family and friends, without some of the stress that comes in the run-up to Christmas.
Like Christmas though, Easter is a holiday filled with unnecessary waste and packaging. In 2018, Which? published research that found the worst offending big-brand Easter egg was over a third (36.4%) packaging by weight.
We're a few years down the line now and households are becoming increasingly switched-on to the idea of plastic-free Easter eggs and eco-friendly Easter gifts. At the same time, other environmental concerns like organic and vegan Easter eggs are gaining pace too.
So how can you make sure you avoid unnecessary Easter egg packaging waste, while hopefully shopping locally at the same time? In this article we'll take a look at the options for eco-friendly Easter egg packaging and zero-waste Easter gifts.
Why do we have Easter eggs?
First of all though, what are Easter eggs all about anyway? The present-day practice is a mish-mash of centuries of religious and secular traditions that leaves many kids believing bunnies lay chocolate eggs.
In fact, eggs became a symbol of Jesus Christ's resurrection quite early in modern Christianity, and eating real eggs over Easter weekend was thought to ensure good health for the year ahead.
Over the centuries, chocolate eggs started to appear. The chocolate became sweeter and the method of making hollow eggs – sometimes filled with treats — was perfected.
With Easter coming at the end of Lent, many people choose to give up chocolate for 40 days, so Easter eggs are the ideal way to break that fast too.
Easter egg waste facts
The environmental concern with Easter eggs is the packaging. In that investigation by Which? in 2018, on average the packaging accounted for a quarter of the total weight of commercial Easter eggs.
In the same year, Liberal Democrats MP Jo Swinson published her own research into the size of Easter eggs and their packaging, and whether that packaging can be recycled.
She found:
Around 150 million hollow chocolate eggs are sold in the UK each year
Larger boxes don't always mean larger eggs, but take up more space on lorries
The difference between the biggest and smallest packaging equates to 12,000 lorry journeys
That carries a carbon footprint of 385 tonnes of excess CO2 emissions
Many manufacturers continue to use plastic packaging for Easter eggs
While more recent taxes on plastic packaging should mean we see more plastic-free Easter eggs in the shops in the 2020s and beyond, the plastic window in the cardboard box, the plastic chocolate bar wrappers and the foil on the egg itself are all some of the challenges to eco-friendly Easter egg packaging.
Ms Swinson also noted that more than 1,200 UK landfill sites in coastal locations are at risk of being eroded into the sea – so historic plastic waste that was disposed of in the correct way at the time could ultimately find its way into the oceans.
How to have an eco-friendly Easter
These are serious concerns, and it's easy to see the potential benefits to the environment of the eco-friendly Easter eggs UK households are demanding.
Here are just some of the ways eco-friendly businesses in Leeds are helping local residents to celebrate Easter without harming the environment – and how you can do so too.
Eco-friendly Easter eggs
Plastic-free Easter eggs are a good place to start. Many Easter eggs now come in a cardboard box with no plastic window in the front, but it can be tricky to tell if there's a plastic form inside holding the egg in place.
Why not follow this idea from Zero Waste Leeds and try making your own Easter eggs? You buy a reusable mould and just 'paint' thin layers of chocolate on to it up to whatever thickness you want, then remove from the mould and stick two halves together with melted chocolate.
Alternatively, Out of This World have a selection of organic Easter eggs and Fairtrade Easter eggs to choose from, as well as vegan Easter eggs from trusted brands.
Vegan Easter eggs
It's getting much easier to buy vegan Easter eggs in Leeds. As well as the choices from Out of This World, you can also buy vegan Easter eggs online from ecoTopia Leeds, from brands including Divine and H!P.
At Refill & Go in Garforth you can tick every check box at once, with Coco Caravan plastic-free Easter eggs. They're caramel-centred and come in boxes of 8, and they're organic and vegan too!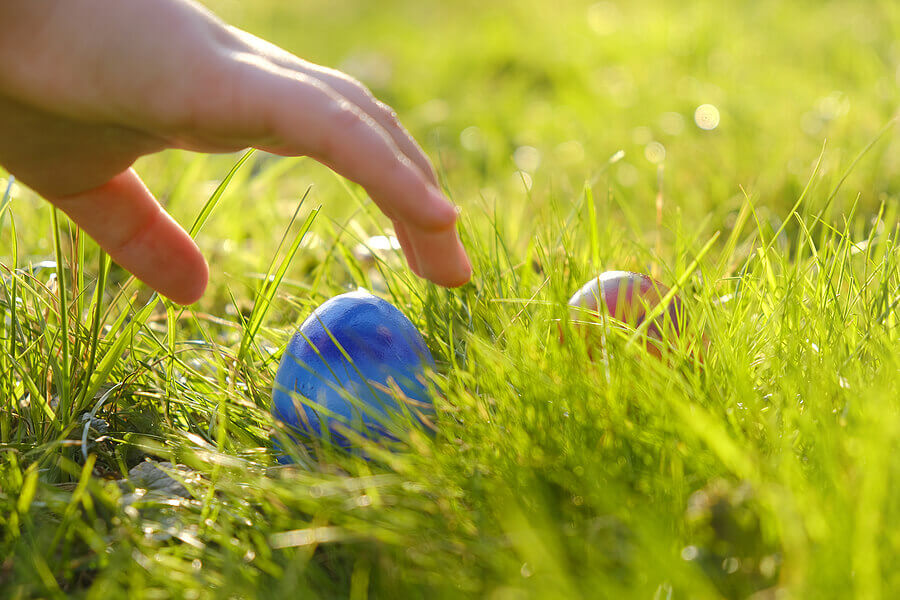 Eco-friendly Easter gifts
Get creative and give gifts like an eco-friendly Easter bonnet or all-natural Easter wreath. The handmade touch is always worth so much more and you get total control over the materials you use.
Adam & Eco have some plastic-free soap gift sets that would make excellent eco-friendly Easter gifts, while Like Nana Did have paper sticky tape in standard and parcel tape widths, so you can wrap your gifts without hurting the environment either.
How to dispose of your Easter egg waste
It's getting easier to dispose of Easter egg waste as kerbside recycling services improve, but it's still far from perfect.
Cardboard, paper and foil (e.g. the Easter egg wrapper itself) can all go in your green recycling bin in Leeds, and if the box has a plastic window, that can also be recycled if it's PET (Type 1) plastic.
Plastic Types 2 (HDPE), 4 (LDPE) and 5 (PP) can also be recycled, so if you have plastic packaging waste from Easter, check for the number in the triangular arrows symbol on the back.
Easter party waste disposal
If you're hosting an Easter party, getting rid of your waste could be a concern, as everyone's recycling bin is under pressure nowadays.
Forge Skip Hire have domestic skips available from as small as 4 cubic yards. That's enough for 40-45 bin bags and should cope with the waste from a typical garden party with room to spare.
Our skip sizes go right up to 35 cubic yard containers – so if you're holding an Easter event on a significant scale, give us a call and we can arrange to collect your waste after the bank holiday weekend.
Easter food waste disposal
Leeds food waste bin collections are currently suspended after the council ended its trial project. If you have leftover chocolate, in theory you can compost it, but in practice it's often best not to. Chocolate in your compost heap or compost bin can attract pests and may be harmful to household pets who manage to reach it.
As always, the best advice is to minimise food waste as much as possible. If you're not a big fan of Easter egg chocolate, try smashing it up and adding it to ice cream or sprinkling it on your cereal. You can even melt it down and use it as cooking chocolate to use it up in a cake or in some simple chocolate cupcakes.