Caring for the environment doesn't only concern your diet or method of transport.
Did you know that around 300,000 tons of clothing are burned or buried in landfill each year? Fast fashion is one of the biggest contributors to the climate crisis. The cheap clothes are designed to be disposed of, meaning after just a few uses they could end up in the ground. This is why sustainable fashion is so important.
As well as buying second-hand and repairing your items, eco-friendly materials could be an answer for the sustainable fashion industry.
Hemp is one such material and is quickly becoming a must-have fashion item. Designers and high-street stores alike are rushing to invest in the durable, environmentally friendly product, producing stylish and guilt-free clothing.
What is hemp?
Many have heard of hemp and its associations with marijuana, however the plant can also be used for a wide range of industrial products.
Alongside bamboo, hemp is one of the fastest-growing plants in the world, meaning it's great for constantly evolving industries that require a fast turnaround – like fashion.
Though hemp and marijuana are technically of the same cannabis plant, the key difference is the legality of the products. Hemp usually contains less than 0.3% THC, the chemical responsible for the "high" associated with cannabis.
Hemp seed is therefore completely legal to grow and use for other products, most commonly paper, textiles, animal feed, plastic, and even in food products such as hemp milk and hemp oil.
How sustainable is hemp?
As hemp grows incredibly quickly, it's considered a more sustainable material.
Hemp can renew up to three times per year and is easy to grow – you can find it on almost every continent. The plant naturally reduces pests, meaning no pesticides are usually needed. Hemp also returns 60-70% of the nutrients it takes from the soil.
Water-wise, hemp requires very little, especially when compared to the most popular clothing material, cotton. Hemp uses up to four times less water than cotton and needs a relatively small amount of land to cultivate.
How is hemp used in clothing?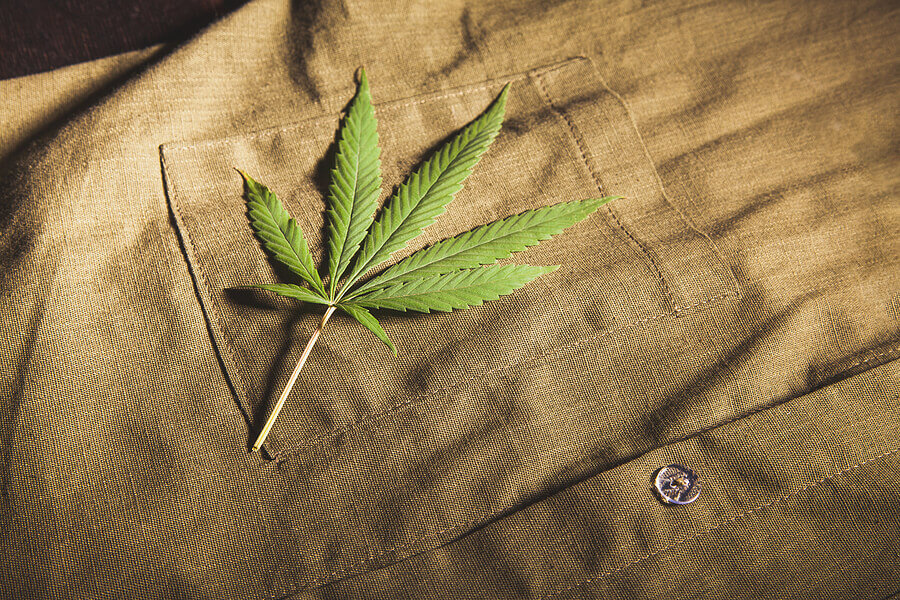 Hemp is one of the most durable natural fibres. It's similar to linen in texture, but can also be combined with other materials to make it softer. It's around ten times stronger than cotton, is resistant to UV rays, and holds its shape. In short, it's a great candidate for timeless pieces of clothing that are worn on a regular basis.
It's great for our skin too – hemp is naturally pest-repellent meaning no chemicals are needed in the growing process. This organic approach makes hemp perfect for sensitive skin. It's a breathable fabric and has fantastic insulation properties.
Perhaps the most sustainable aspect of hemp is that it's biodegradable, meaning it won't tarnish our environment.
This minimal carbon footprint and other natural properties have made hemp rapidly popular in the fashion industry. Clothing brands are answering consumer cries for more sustainable approaches to fashion, with hemp seemingly being one of the answers.
Previously, hemp has been associated with heavy-duty clothes and unflattering pieces. However, with recent interest from fashion stores such as H&M, Zara, and Marks and Spencer, hemp is now being transformed into more appealing and fashionable designs.
Items like shirts and trousers are particularly popular, thanks to the natural breathability the material boasts. Lightweight yet durable, hemp allows the body to maintain a comfortable temperature, keeping us cool in summer and warm in winter.
How hemp fabric is made
Hemp fabric is made much like other, similar clothing materials.
The fabric is made from the long strands of fibre that make up the stalk of the plant. Through a process called 'retting', these fibres are separated from the bark and then spun together to produce a continuous thread that can be woven into fabric.
Though this entire process can be done organically requiring no harsh chemicals, many companies now produce hemp fabric chemically. This process is much more intensive and damages the environment with toxic chemicals. This is typically labelled as 'hemp viscose', which is hemp combined with regular viscose.
Dying hemp can also have a negative impact on the environment, again because of the chemicals used. Always check the label of any hemp clothing you are buying to ensure you are purchasing an organic and eco-friendly product.
The pros and cons of hemp clothing
Though hemp clothing is considered more sustainable, it's important to analyse both the pros and cons of the material.
Pros
Requires less water, land, and energy than popular alternatives such as cotton.
Grows faster than most other plants, so can be restored quicker.
Is a durable material that is also good for the skin.
Can be combined with other materials to make for a more fashionable end product.
Is biodegradable.
Cons
Negative connotations, particularly concerning legality and abuse of the cannabis plant.
Some clothing companies use heavy chemicals and dyes in the growing and manufacturing process, harming the environment.
Hemp clothing is – at the moment – generally more expensive than other materialled clothes, meaning it's unattainable for everyday shoppers.
Limited styles and colours of hemp clothing exist, making it unappealing in the fashion world.
Most hemp clothing is bought/sold online, taking demand away from high street stores and making it unattainable for those who can't shop online.
Where to buy hemp clothing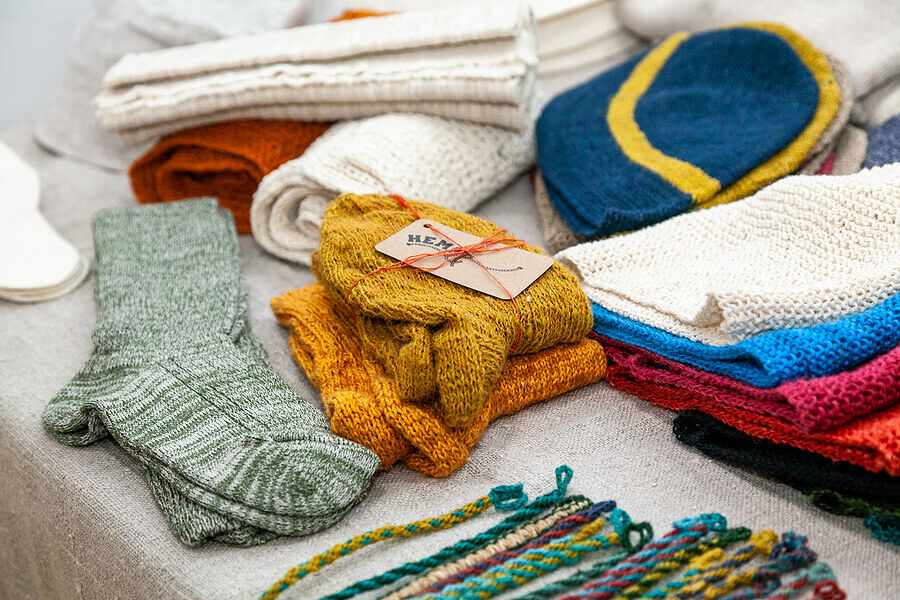 If you're ready to make the switch and start adding some sustainable fashion to your wardrobe, these are the best places to buy hemp clothing.
The Hemp Shop concerns itself with all sorts of hemp products, from the ever-popular CBD oil to hemp paper and books. For fashionistas, it also stocks a decent range of men's, women's, and kids clothing that is made from ethically and sustainably sourced hemp. Most of the packaging is 100% plastic-free too.
Tentree is making waves in the sustainable fashion industry for a number of reasons. The supersoft clothing is made from hemp, cork, and organic cotton. For every item purchased, ten trees are planted (hence the name). From lightweight knits to hoodies and socks, Tentree also promotes ethical manufacturing.
Trailblazers for utilising unconventional materials in its products, Patagonia was one of the first big-name brands to jump on the hemp clothing bandwagon. The hemp collection consists of trousers, hats, coats, shorts, and even hemp denim (watch this space).
If you're looking for stylish pieces that will fit right into your everyday wardrobe, Thought is worth a browse. Keeping up to date with the latest trends like hemp jumpsuits and midi dresses, Thought is an all-around considerate retailer that promotes more mindful living.
At Forge Skip Hire, being more environmentally friendly also extends to your waste. Dispose of your waste in a safe and sustainable manner with a range of skip sizes to suit your needs.