Christmas is a time to prepare your home or office for new things and dispose of the old. It is crucial that there is space for new presents or items that may come your way.
You might need to clear out your house, as that's where your COVID-19 Christmas support bubble is gathering, or maybe your work office needs a good clear out ready for the new year. Whatever the situation, now is a great time to hire a skip.
Instead of "finding space" for clutter, you can hire a skip to safely and effectively get rid of your waste in one go.
Throughout this article, we will cover why Christmas is the ideal time to hire a skip, how to effectively de-clutter an area and the importance of disposing of waste effectively.
Why is Christmas a good time to hire a skip?
As the year is coming to a close, it is the perfect time to start thinking about having a "de-clutter December!" This month, you are bound to receive presents and new things that need more space, so you have to throw a few items out.
Below are some benefits of hiring a skip this Christmas.
Free up some space
Although Christmas will be a little different this year due to COVID-19, you are still going to receive presents and have lots of waste to throw out.
Arguably, you may receive even more packaging and Christmas waste than usual, as many presents may be delivered.
It is really important to free up some space in your home or office to accommodate the new things you are going to receive at Christmas. Hiring a skip gives you the ability to throw things away easily and effectively!
You don't have to worry about waste separation
By hiring a skip, you don't have to worry about waste separation. You can put all your rubbish (except hazardous waste) into the skip, and a reliable skip company can do the rest.
Here at Forge Skip Hire, we have a variety of skip sizes for you to choose from to suit your individual requirements.
Once you have filled your skip, we can collect it at our next available pickup availability and dispose of your waste safely.
Help the environment
Around 114,000 tonnes of plastic packaging will be thrown away and not recycled in the UK at Christmas.
Recycling is crucial to protect the environment. If waste is not disposed of correctly, it can result in damage to soil, water and can physically harm wildlife.
Here at Forge Skip Hire, we dispose and recycle waste safely and effectively to prevent any damage to the environment.
It can help save money and time
By having a skip in your garden, you're saving time and money by avoiding multiple trips to the tip. You'd also be helping the environment by lowering your carbon footprint with the reduction in travel!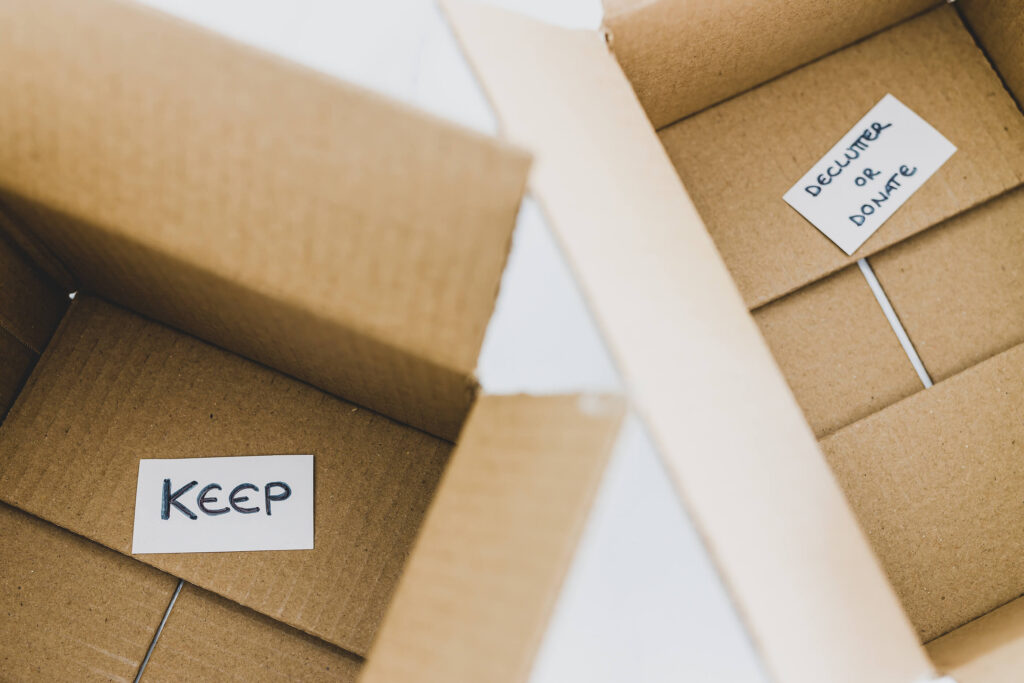 How can I effectively de-clutter an area?
There are many benefits for de-cluttering your home or office space, including less stress and fewer things to clean!
Here are some ways you can effectively de-clutter an area.
Take it slow
Just because you're having a clear-out does not mean you have to do it all in a short space of time. Take a small amount of time and build it up each day; this should be a stress-free experience.
Sort into piles
Organisation is key when it comes to de-cluttering. Create three piles labelled "keep", "into the skip" and "donate".
When you have piles to throw stuff in, it is much easier to identify what is going where and you'll be de-cluttering quicker than ever.
Take a before and after photo
This might seem a little strange, but taking a before and after photo can give you the final piece of satisfaction once you have had a huge clear out.
By seeing an unorganised mess turn into a clean and spacious area, you will know it's a job well done!
Why does waste need to be disposed of correctly?
Waste must be disposed of correctly to protect the environment.
If waste ends up in landfill sites, it can damage the soil and water in the environment, as well as harming animals when they ingest or get caught in the waste.
Here at Forge Skip Hire, we pride ourselves on safely disposing of waste and recycling where possible. Recycling means that used materials can become new products which conserve raw materials and protects nature.
If you are looking to hire a skip this Christmas, click here for a personalised quote.